These Awesome Foreplay tips will give you major Sex Life Goals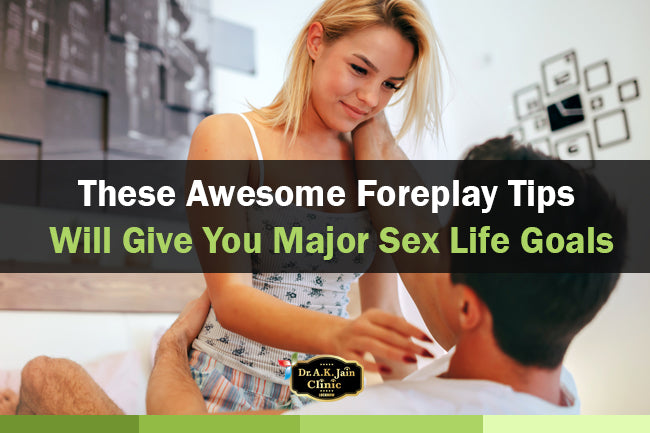 Sex is one of the beautiful gifts of nature which has been designed to bring a couple closer. Sex enhances the bond between the couple and offers an incredible sense of bliss which is just not possible to describe in words. Most men have their own perception wherein physical intimacy for them is just intercourse or more commonly known as the penetration/ vaginal sex. What men fail to understand is that sex is way beyond those few minutes of penetration. If they really wish to satisfy their woman, these few minutes of vaginal sex will never ever make it happen.
Women are emotional beings and they need to feel loved and adored to reach the point of sexual arousal. Unlike men, women can't get excited with just thought of sex or by viewing erotic stuff. They need to feel desirable by men to get in the mood. Though men acknowledge the fact that foreplay is quintessential for getting their partner in mood and having a wonderful sex, what they fail to realize is that 5 minutes of foreplay which involves kissing and fondling her breasts is not enough. Foreplay is about wooing your partner.
Let's have a look at the basics of foreplay:
-
Foreplay is the stepping stone towards making love. It's kind of preparation phase before sex.
-
Foreplay is the focus on making your wife sexually aroused.
-
Foreplay is something which should never be rushed. A minimum of 20 to 30 minutes should be spent engaging in foreplay.
According to experts, foreplay can be divided into 4 parts. Let's have a look at each of them:
Foreplay tips to be used before Bedroom
-
Kiss her unexpectedly
-
Kiss her forehead and stroke her hair
-
Stare into her eyes and say you love her
-
Compliment her for her beauty
-
Hold her hands in public
Remember, women need emotions and affection as well. Just physical touch is not sufficient for them. If you treat her well outside of the bedroom, she will treat you well inside the bedroom!
Foreplay tips to be used while warming up
-
Take her in your embrace and give a tight hug
-
Kiss her gently. Start with pecks on cheek gradually moving towards her lips.
-
Start undressing her slowly and caress all her body parts gently. Plant a kiss here and there.
-
Whisper how beautiful and attractive you find her.
-
Kiss all over her body and caress her tummy
-
Touch her and fondle her sexual parts
-
Explore new touch points which pleasure her and lead to sexual arousal
Foreplay tips when things get passionate
-
Go for passionate kissing as it can really make things hot
-
Go for faster and hard stroking or caressing of her body
-
It is the right time for full body embracing
-
Start oral stimulation with sucking and licking
-
Caress the inner part of her thighs
-
Do not forget to gaze in her eyes once in awhile and express how irresistible you find her.
-
Squeeze her body and keep stroking her
Final tips for foreplay just before the intercourse
-
Move your hands from top to down in between her legs
-
Take a note of the moans or verbal clues she gives while you try to pleasure her
-
If she is not wet enough, use lubricant before stroking her clitoris and vagina
-
Slowly start massaging the outer lips of her vagina
-
Carefully note her body language to know if she has started responding
-
If she doesn't respond, ask her what she would like you to do
-
Fondle her breasts and kiss her all over body quite passionately
-
Massage her inner thighs along with stimulating her clitoris till she gets ready for intercourse or ready to orgasm
-
Don't forget to express how much you love her body
These tips will help you in exploring your partner's body and help both of you reach orgasm. It will also help in bringing you closer physically as well as emotionally leading to a blissful relationship.
If you want to know more about sex, relationship, and marriage check out our other blogs on this site. Feel free to write us for any queries and suggestions. We would we glad to help.
Stay informed and keep learning!