Is It Your 1st Time In Bed With Your Partner? Here Are Some Tips You Should Know!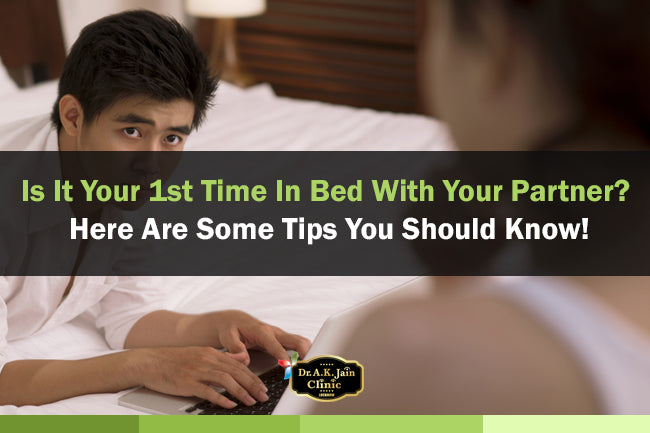 Sex is a beautiful feeling, an emotional experience that brings the couple closer. If it's your first time together, the excitement and nervousness are all the more.
Assuming that you are in a relationship for some time and planning to take it a notch up by getting physically intimate. It is obvious to have high expectations from the first encounter, all thanks to the movies, glossy magazines and porn sites which makes sex look so effortless and great! What people fail to understand is that sex is more like a journey, of trial and error if you will, which leads to our destination- ultimate satisfaction.
Having said that, one can't deny the fact that it's a subjective matter! Few couples might have a great sex on their very first night while others might take few days, weeks and in some cases months to consummate.
If both the partners are inexperienced (virgin), there can be a sense of awkwardness, ignorance, and anxiety associated with getting physical. You might be unaware about each other's bodies and the pleasure zones. Exploring each other and trying techniques take time and can't be achieved overnight. There will be a lot of trial and error sessions but that's what enhances the beauty of this relationship. The sense of mystery, the desperation to explore each other, the craving for that much-awaited union is what keeps the spark alive!
It's a process and couples need to be accepting of themselves and their partners. Laughing off the goof ups is the key to reduce the nervousness.
Here are few tips for the beginners to make their sexual experience better for the first time.
Communication is the key
Communication is the ultimate hack to having great sex. It is your first time together and you have to go a long way. Talk about your likes and dislikes.
Let your partner know what pleases you and what turns you off. You should also discuss your fantasies and what you would like to do with your partner. This would help in turning on your partner. Also, if you are not comfortable with something, be open about it instead of suffering in silence as it affects your sexual experience.
Do not expect much from the first time
It's your first time together and it's obvious to have many expectations from the night. However, don't be disheartened if the night does not turn out as expected.
Not every couple is successful in consummating the very first time. It's better to have a reality check and keep your expectations as low as possible.
Make your partner comfortable
You might have known your partner since ages but physical intimacy is a next level thing. There are chances you might feel awkward with each other.
It's better to talk it out. Instead of directly jumping into the activity it's recommended to relax and make your partner feel comfortable. Take a light dinner and wine or go for a shower together. Soaking in a hot water tub is also a great idea to romance and arouse your partner.
Explore and Learn
Our bodies do not come with a manual. Every individual is different and so are their preferences. You need to explore your partner with each session.
Try to gauge their reactions when you try to please them in certain areas. If they are not vocal enough, you can ask them or simply listen to their moans. Take a note and implement it the next time you are in between the sheets
Mental blocks
There are many myths prevalent about first-time sex. It's better to not have any preconceived notions about sex and take it as it comes across.
You should go with the flow. Not every woman bleeds or feels pain during penetration. foreplay definitely helps a lot of women achieve orgasm
Practice makes a man perfect
And last but not the least indulge in as many passionate sessions as you can. The more you do it, the more you get to know it! Don't miss a chance to slip between the sheets.
And finally, stay calm. You are just starting out. You don't have to rush things or compete with anybody. Every couple has their own pace. If not today, you are going to succeed tomorrow. So don't go rushing to a psychologist because you think your sex life is falling apart. Leave that to your 40s. Just kidding!
Enjoy as much as you can and leave those inhibitions behind!
If you want more sex or marriage-related advice email me or just comment down below.
Till then stay healthy stay happy.