Improve Your Sex Life with Dark Chocolate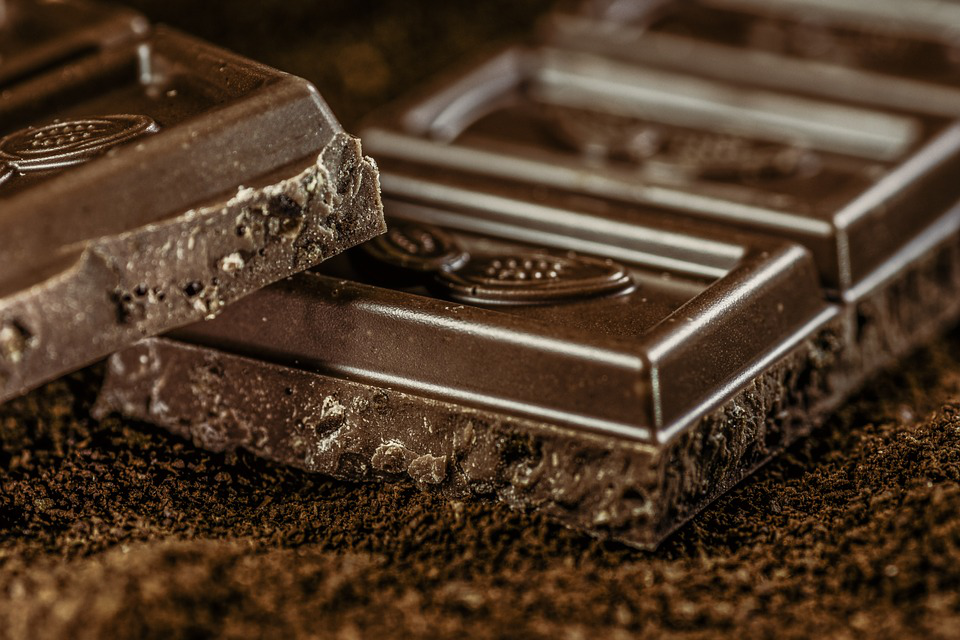 Every person desires their partner to go an extra mile while making love. Sexual senses in a man or woman never satisfy easily. A healthy sex life helps in building a stronger relationship. A professional might help in identifying the problem and give solutions for the same. However, the food we eat produces a great impact on our sexual senses. Eating a healthy diet can help in increasing the libido. Dark chocolate is one of the healthy foods that boost sexual desires. It can spice up your life just like the way you always want.
Chocolate arouses the sexual sensations in a human body. It affects the mood and enhances the energy in some incredible way. Moreover, dark chocolate has numerous health benefits as well. It is extremely remarkable for a healthy heart. You might love giving your partner a pack of dark chocolate as a symbol of love. But, dark chocolate is a symbol of desire. It is a sign that you are sexually excited about the person. In addition, chocolate increases blood flow and elevate the mood as well. If you desire to enhance your sex life, eat a pack of chocolate and boost your senses first. Treat yourself with a bar of sensual chocolate regularly if you want to improve your sexual relationship.
Let us talk about the ways chocolate helps to improve sex life.
Revitalize the Body
Your partner wants you to stay energized while making love. Nobody desires to make that memorable night boring or something like that. However, if you lack energy during romance, then your partner might not enjoy being in a sexual relationship with you. Dark chocolate is as an energy booster that lets you keep going for longer in bed. Chocolate contains phenylethylamine, which is an energy-boosting endorphin related to orgasms. Moreover, eating dark chocolate regularly results in better arousal and sexual communications. One might experience a great orgasm while eating dark chocolate just before the sexual performance.
According to studies, dark chocolate is great energy boosting food that takes your sexual senses to another level. If you suffer from any of the intimacy issues, then adding dark chocolate to your diet might assist greatly. It trims down the stress and anxiety functions in our mind, which lower sex drives in the body. However, a number of men and women fail to orgasm during sexual intercourse, which is a matter of consideration. Dark chocolate boosts the endorphins associated with intimacy issues resulting in better orgasms.
Improves Blood Flow
A good quality dark chocolate improves the blood flow in the body. It is a rich source of compounds that increase blood flow. While making love, blood circulates with a great speed inside the body. And, dark chocolate works as an effective sex-enhancer during that time. It helps the blood to reach sexual organs and result in longer arousal. A number of men face intimacy issues related to libido, which is not good for a healthy sex life. Dark chocolate helps to fight this issue as well.
Chocolate increase dopamine levels that control the pleasure senses in our body. Moreover, dark chocolate is an ideal food item that assists in maintaining excellent sexual health for long. Besides, it decreases and controls the blood pressure that fluctuates speedily while you make love with your partner. And, it decreases the levels of stress hormone that lowers sex drives in both men and women. Chocolates contain natural sex-enhancing compounds that perfectly increase the blood flow in the body. By improving the blood flow to sexual organs, it increases the feeling of sensation. Moreover, you might feel satisfied after adding dark chocolate to your sensual nights.
Elevates Senses & Mood
Chocolate is all about love, and love is all about chocolate. A few squares of dark chocolate can elevate the mood and sexual senses in the body. You will feel refresh and excited for making a sexual connection after eating chocolate. Moreover, it is enough to get your partner in the mood. And, it is beneficial for men to keep aroused for longer if in case you experience Erectile Dysfunction issues.
No matter which type of intimacy issue you are facing, professional advice truly helps. However, the solution for sexual issues lies in the nature itself. You might need an expert to find that way. And, opting for an infamous sex specialist might be the ultimate choice.
Dark chocolate increases the libido in men and women. It is referred as the super healthy intimacy food that helps in enhancing sensual parts and mood. Chocolate is a great source of Phenylethylamine (PEA), which is the most important sex endorphin in our body. It directly affects the chemicals in the brain and triggers those sensual points or spots in mind. That is all you need to satisfy your sensual organs in the bedroom.
Numerous Health Benefits
Chocolate not only helps in making a perfect sexual relationship but also carries numerous health benefits. Dark chocolate contains antioxidants and minerals that a human body seeks to remain healthy. You might find it a symbol of love, but it is a superfood that elevates your sensual organs and other body parts. Be it your brain, skin, heart, or senses, a few squares of dark chocolate cover it all.
The quantity of anti-oxidants in dark chocolate is more than any other fiber-rich fruit. The anti-oxidants in dark chocolate are good for your heart and skin as well. The chemical compound also lowers the risk of infections in the human body.
Plus, dark chocolate boosts the brain functionality by affecting various concentration levels. It improves the blood flow to not only sexual organs but also the brain. All the sensual organs are controlled through the brain, and it increases the blood flow in the body. Dark chocolate improves the brain functions in the best possible way.
Research has proved that regular consumption of dark chocolate helps the body to fight various heart diseases. It also assists in getting rid of cholesterol and blood pressure. High cholesterol results in severe heart diseases and dark chocolate prevents the same. Dark chocolate is not just known for its delicious taste, but the numerous health benefits as well. Moreover, it boosts the power inside the body to satisfy sexual senses.
Some people avoid eating dark chocolate because of its bitter taste. But, it is extremely good for the skin. Chocolates are high in anti-oxidants, which protect skin from skin damaging. A person can say NO to wrinkles and dead skin by eating dark chocolate regularly.
The Bottom Line
That's all! These factors make dark chocolate a vital part of a healthy diet. But, over-consumption of dark chocolate may not be good for the body and sex life. Taking assistance from the
best sexologist in India w
ould be highly appreciated. So, eat sweet dark chocolate to spice up your life.